In this digital age, the onus is on businesses to provide their potential customers with all the information necessary to make an informed purchase decision; to stand out from the crowd, this information needs to be presented in a clear and informative way. This is just one purpose of content marketing, but there is scope to achieve far more.  If it's done well, content marketing can position a business as a leading expert in their field; it can spark an interest, generate demand, build brand awareness, add brand value, initiate customer contact, build customer relationships and ultimately generate additional sales.
What is content marketing
Content marketing is the creation and sharing of ideas and information that doesn't explicitly promote a brand but generates interest in a company's products and services. To be of value, the content needs to be original, informative and well-presented.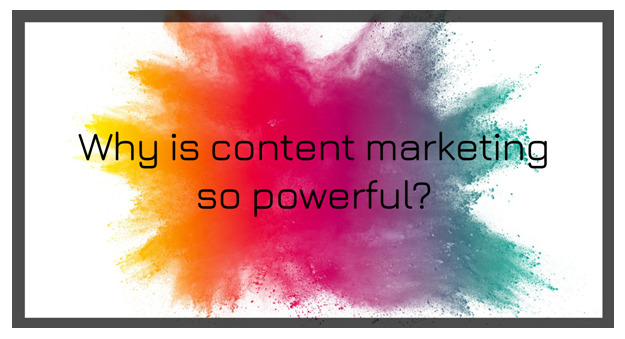 What are the potential benefits
Potential customers want and expect to be able to find useful information to inform their purchase decision. They tend to engage with the businesses that are best able to help with their research. This principle of inbound marketing is explored in more detail in a separate article that you can find here. Content marketing is an essential element of a good inbound marketing strategy, and it has the potential to deliver lots of benefits:
It can be the first step in customer engagement
It can generate enquiries and increase sales
It can improve your website's SEO
It can increase the number of visitors to your website
It can raise awareness of your brand
It can position your business as an expert in your field
It can raise your business's visibility in the media
It can give your brand authority in the market place
It can (with downloadable content) be a good way to gather contact details
It can create a community of regular readers
What makes content good
Good content should be created with the audience in mind. Think about who you are targeting and what they want, and then create your content using language, imagery and graphics that are appropriate to their level of knowledge. If you want to reach multiple audiences, it's often worth targeting them separately, changing the content or the language that is used for each group, and perhaps changing the media too.
The content needs to be informative, original and interesting. If you are just telling people what they already know, it will have no value. Coming up with content ideas can be tricky, but here are a few suggestions that may help:
Find a new angle or approach to a hot topic
Conduct research and share the results as a basis for original content
Share (and comment on) news articles that are relevant to your audience
Your front line staff speak to customers every day – ask them what everyone wants to know
Share your knowledge and expertise and that of your team
Provide information that is hard to find elsewhere
Identify internet search terms for which you want to improve your ranking… and write about those subjects
If you feel passionately about something, share your opinion – not everyone will necessarily agree with you , but it's a great way to initiate debate
Content needs to be served up in manageable portions. The length or duration of your message will depend on your audience, your choice of media and what you are trying to achieve. A white paper may run to several pages of text, whereas a message on LinkedIn will typically take no more than a couple of minutes to read or watch.
One of the great things about content is that it can be shared across a number of media. The same article can be emailed to your contacts, posted to your website and shared on social media.
What makes content marketing effective
It's always a good idea to start with clear objectives. You may want to raise awareness of a new technology, build an online community, improve your SEO or cement your position in the market. If you keep sight of your objectives, it will help keep your content focussed and give you a far better chance of success. With your objectives in mind, it may be a good idea to add a call-to-action to your content. If you're trying to generate leads, make it easy for your audience to contact you with clear links and contact details at the end of the article.
Your content can be shared across a number of different media and platforms – blogs, emails, website copy, social media posts, white papers, CPDs, news articles, webinars and more. When choosing your media, keep your audience and objectives in mind, but also think about the complexity of your message. You may need to support your text with graphics, or use video instead of text, if that helps to get your message across more succinctly.
If I visit a website or social media page where the last news article was posted a few years ago, it doesn't fill me with confidence. If you're not going to post new content at least once a month, it's probably better not to start. From a business perspective, no Facebook page is better than a Facebook page that is neglected.
Particularly with LinkedIn and other social media, one of the most overlooked opportunities is to amplify the results through active sharing of posts. On LinkedIn, for example, if you post an article on the company page, there is the option to notify employees. I would do this every time and regularly remind your colleagues to share the posts. This will increase the number of views and the spread of the message exponentially.
One of the great things about digital marketing is the ability to monitor and measure results. Whether your content is emailed, downloaded or shared on social media, it's easy to see how many times it's been viewed, opened, liked, shared or downloaded. Over time, some patterns will emerge that indicate which content, media and timing works best for each of your different target groups.
Here to help
Whether you need help with your content strategy or the creation of the content itself, the experienced team at 49Red are happy to help. Contact Hugh directly on 07808 365214 or send an email to hugh.moss@49red.co.uk to discuss your requirements.