The ten Cs of great logo design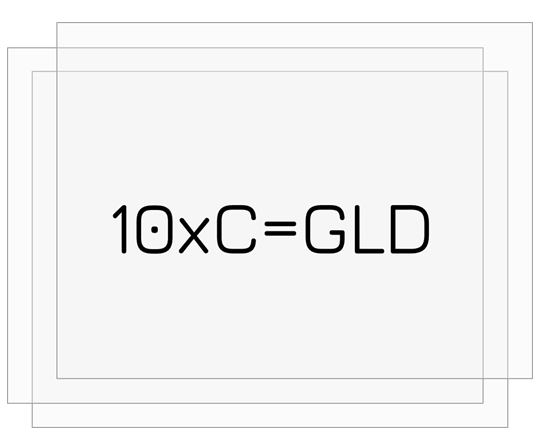 Whether you want a completely new logo or feel that your existing logo needs a refresh, there are a number of things to consider throughout the design process to ensure that your new design works for your business.
Your logo may represent the business as a whole or be designed for specific products and services. Either way, it should be eye-catching, memorable, unique, distinctive, timeless and simple.
Here are ten steps that will help bring structure to your logo development project. I call them my ten Cs for great logo design (GLD).
Convenient
A really good starting point is to consider where and how you want to use your logo. For example, if you want to have your logo embroidered onto workwear, you need to avoid thin lines and designs that are small and fiddly; if you want it to be printed onto small merchandise like a USB memory stick, you need to ensure any words are still legible. Make a list of all the ways you want to use your logo, and then make your design convenient for use in all of these ways.
Consider your audience
Your logo represents your brand and it's important that it resonates with your customers and prospects. Consider what sort of business your target market wants to deal with and how you want them to perceive your business, then create a logo that is consistent with this. For example, if you sell traditional products to customers who are looking to buy from a traditional company, your logo should reflect this with a more traditional style.
Competition
It's easy to check what logos your competitors are using – some of them will be better than others. Whilst you may want to take some design cues from the wider industry, it's always a good idea to make sure that your logo is different. Stronger brands in the market may have developed an association with a particular colour; to avoid confusion you may want to avoid using that same colour. Logos and brand names can be protected as registered trademarks. It's free and easy to check this online at www.gov.uk/search-for-trademark, and this could just save you a lot of trouble.
Components
As a general rule, a logo can comprise up to three main components – the name, the icon and the strapline. It is quite common to have a name and an icon that work together, with the flexibility that sometimes the icon may be used on its own. A strapline can be useful in positioning the brand and communicating a core brand value, but it's not essential to have a strapline, and some businesses that do have a strapline, choose to use it selectively.
The name shouldn't be too long and the strapline should be punchy, meaningful and should resonate with your target audience – probably communicating a key benefit or positioning statement. Designing the icon can be somewhat more involved – it should be memorable, distinctive, and in keeping with the corporate image you are trying to convey.
Creative
Particularly for the icon, but also for the logo as a whole, there are a number of design choices to be made. The overall shape of the logo can be important – a long and thin logo can be more awkward to use than one that is more evenly proportioned. The font, background, colour, imagery and complexity should also be considered. Think about what you want the logo to say about your business – the icon could include some imagery that shows what your business does, or it could be more abstract if you are trying to appear more contemporary. You may choose not to have an icon at all, in which case the brand name needs to be more stylised.
Complexity
It's usually best to avoid making the logo too intricate. You need a logo that works on headed paper, on business cards, on your website, on clothing, on merchandise and on all your digital marketing and advertising. A simple design with space around it can often be the best way to make the logo stand out, and this simplicity will make the logo easier to use in different situations.
Control
Brand guidelines are essential for larger businesses where you have several people who may need to use the logo for a variety of different purposes. In smaller businesses, it's less critical. When putting together the brand guidelines, there is a balance to be struck between ensuring that the logo is presented consistently, whilst at the same time not creating unnecessary constraints on how and where the logo can be used. The logo and the associated brand guidelines should be there to help, not to hinder.
Consensus
Design is a subjective thing. Ask ten people to give an opinion on a proposed logo design, and you're in danger of getting ten different answers. But that's not to say that others' opinions are not valuable.
I find it's useful to keep the number of people involved during the development stages to a minimum – perhaps 3 or 4 influential people with different perspectives. As the design evolves through stages of refinement, it can be helpful to keep a note of what you have tried and why you have chosen a particular route. Then when you have a preferred option (and perhaps two good, viable alternatives in reserve), you can present to a wider team. It's usually helpful to show them the journey, explaining the options you have looked at and the reasons behind the choices you have made – based on the criteria I have already described.
Content
Having agreed on the new logo design, don't forget to shout about it! The launch of a new logo is a great opportunity to create some content that reinforces your brand values. It's also important to ensure that any brand recognition of the old logo is carried over to the new one. Creating fresh content has many advantages, and a new logo will generate more interest than you might expect.
Cost
Developing a new logo is in itself not a particularly expensive exercise, but the cost of implementing that new logo can be more significant – building signage, signage on vehicles, literature, workwear, stationery and so on. Before you start a rebranding exercise, it may be worth running a quick audit of all the places that the logo is currently used.
it's important to get it right; the chances are that you will be living with it for a number of years. If you need some help with the design or with the marketing strategy behind the design, the experienced team at 49Red would be delighted to get involved.