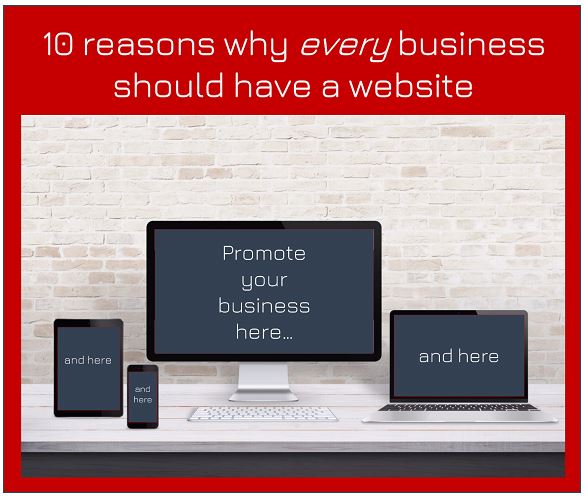 There are plenty of small businesses out there that have survived and even flourished over the years without a website. However, times are changing and more and more people are now researching and buying over the internet than ever before. It is widely reported that a staggering 80-90% of people research online before making a purchase, and this is only likely to increase. But besides the threat of being left behind in this digital age, here are ten great reasons why even the smallest of businesses should have a website.
⦁ Credibility
Even if you have been trading for years, the lack of a website may cause some potential customers to question your business' legitimacy. A clear, professional-looking website builds credibility and gives the perception of a business that is well-established and has a degree of permanence. In a world that is increasingly plagued by fraudsters, customers may take some reassurance from an informative website.
⦁ Showcase your capability
Your website doesn't have to be complex. A simple website can be a great place to tell potential customers a little about your business, showcase your products and services, and provide key information like contact details and opening hours. Think of it like an online brochure that can be easily kept up-to-date and can be viewed and shared by your target market 24/7.
⦁ Saves you time and improves the customer experience
By providing essential information like opening hours, directions and perhaps answers to some frequently asked questions, you can reduce the need for people to call you for this information and thereby save yourself time; and by making this information readily available and easy to find, you improve the customers' experience of dealing with your business too.
⦁ Makes it easier for people to contact you
Most websites will give people a few different ways to get in touch – usually a phone number, email address and perhaps a form on the website. In the early stages of their research, consumers sometimes prefer to send an email enquiry rather than making a phone call, so giving people the option can be a good way to initiate contact. But, if you have a preferred way for customers to contact you, this can be reflected in the content of your website too.
⦁ Generate more (relevant) enquiries
Once your website has been optimised (for more on SEO click here) and is being found by your potential customers, you can expect to receive not only more enquiries, but also more relevant enquiries. The information on your website will enable customers to see what your business does, and this should help reduce the number of enquiries from people you can't help – perhaps those outside of your area or those who want products and services you don't offer. Should you decide to generate leads with some digital advertising (either now or in the future), it's really helpful for the ads to direct people to your website.
⦁ Better conversion rate and more sales
A website is a great place to share information that potential customers will find both helpful and reassuring. Testimonials from past customers, examples of previous work, accreditations, reasons why people should choose to buy from your business rather than your competitors… all of this will lend credibility to your business' offering and should lead to more enquiries and more sales.
⦁ Better customer retention and repeat purchase
A website is a great platform from which to share information with past and potential customers. This could be news about the business, industry insight, or information about new products and services, etc. Engaging with your customers regularly, keeps your business in people's minds and increases the chance that customers will come back to buy from you again and will recommend you to their friends.
⦁ New routes to market
Particularly for retail businesses, but increasingly for B2B as well, there is an opportunity to start selling online through your own website. Whilst the logistics of e-commerce can be challenging for some businesses, creating a website and working up the Google ranking is a great place to start – it's easy enough to add an e-commerce function to the website at a later date if you wish.
⦁ Added value
By presenting your business as a credible organisation and showcasing your full range of products and services along with all your key selling points, you can add value to your positioning and potentially increase margins. What's more, by generating more relevant enquiries, there's an opportunity to grow the customer base and make more profit.
⦁ Establish a new business
If you're just starting up a new business, a website can be an invaluable tool for all of the reasons listed above, and can also help when it comes to opening a business bank account or securing funding. The banks have seen a big increase in demand for business accounts recently and are being quite selective about which businesses they want to deal with. A credible website for your business can be helpful in convincing them that you are serious about your new business venture.
Creating a new website can be a bit daunting for many people, but with a bit of help it can be a lot easier and less expensive than you may think. Whilst a poorly designed and badly written website can be worse than having no website at all, the experienced team at 49 Red can help make sure your new website looks great and is something to be proud of.
Particularly if this is your first website, it can be a good idea to keep it simple to begin with. There's nothing to stop you adding more content and functionality in the future – indeed this can be a good thing, as the search engines (like Google) offer a higher ranking to websites that are regularly updated.
For more information or to discuss your requirements, contact the website development team at 49 Red. We'll make the process of creating your new website a pleasure rather than a chore and we're confident that you'll be delighted with the results.